LGBT Q Therapist
Even though a person's sexual or romantic orientation or gender identity may not be a source of distress, people who identify as lesbian, gay, bisexual, transgender, queer, questioning, intersex, or any other type of non-conforming sexual or gender identity (known as LGBT, LGBTQ, or LGBTQIA, among others) may find that the social stigma of living as a sexual minority is a source of stress or anxiety.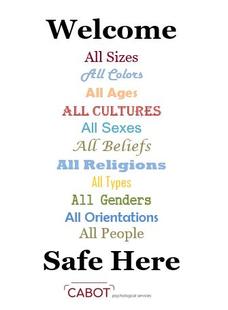 Here to Help
Why suffer alone when we may be able to help you?
Several therapists at Cabot Psychological Services identify as LGBTQ providers and understand that members of the LGBTQ community experience social stigma and may have struggled with emotions associated with harassment and discrimination, coming out to family and friends, or a variety of other situations unique to the LGBTQ community.
To set up an appointment and learn more about your options, please call or text (952) 831-2000, email info@cabotpsychologicalservices.com, or fill out the Co​ntact form.
Cabot Psychological Services
Good health involves a lot more than eating well and exercising. The way we think and behave affects every aspect of our lives, and our goal at Cabot Psychological Services is to maximize people's health by focusing on the mind—a very powerful tool. We help people use their own strengths to help them overcome difficult situations and emotions.