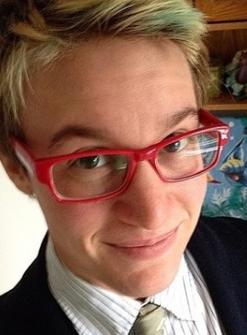 JAC Stringer (he/him), MSW, LGSW
Graduate Social Worker
Group:

Clinicians in Minneapolis
JAC Stringer (he/him), MSW, LGSW
Graduate Social Worker
(pronounced "Jack") ​​Supervised by Amanda Mulfinger, PhD, LP​​
Minnesota License #LGSW25558
JAC is a trans-genderqueer femme, disabled, Two-Spirit, Native American radical activist and social worker. He provides trauma focused feminist therapy for transgender youth and young adults ages 13-25 (exclusively). His specialty is supporting those processing their gender and sexuality, and trauma survivors' experiences with depression, bipolar moods, anxiety, self-harm, suicidality, disability, chronic pain, multiples/alters, dissociation, sexual assault, familial abuse, stalking, and intimate partner violence. He is body, sex, and kink positive, poly-inclusive, values accountability, and recognizes the intersectional impact of systematic oppression. He assists in accessing health care (including trans health care) and low/no income resources such as housing, employment, education, food, and public assistance. He helps trans people advocate for their rights and safety, provides trans-focused education, and works with parents, families, and guardians to better understand and support their trans loved ones.
JAC's practice is centered on compassion, transparency, and recognizing the intersection of cultural oppressions including racism, sexism, cisgenderism, heterosexism, ableism, ageism, sizeism, classism, ethnocentrism, religious imperialism, colonization, and medical gatekeeping. ​He's committed to servant leadership and has a strong passion for building spaces for LGBTQPIA2S+ community to come together. He knows that trans and queer people are strongest when they are together, being there for each other in ways no one else can. Whatever a person's reasons for wanting or needing support, JAC strives to foster a comforting safer space where they feel validated and heard. ​​
JAC has served as a social justice community organizer and educator for over fifteen years, with a focus on trans wellness and community building, genderqueer femme identities, trauma survivors, and accessibility resources. He strives to create visibility and resources for Midwestern trans communities with the heart of his work surrounding trans youth and young adults. His work history spans social justice organizing, direct services, therapy, clinical social work, community education, healthcare advocacy, and artistic activism. In 2008, he founded the Midwest's first multi-state trans wellness organization, Heartland Trans Wellness Group, where he served as Executive Director and Program Director for seven years. His program models targeting isolated trans and queer populations have been adopted in multiple Midwestern cities and he is an established social justice educator on trans activism and depathologizing, harm reductive trans healthcare. He has served in leadership positions in several organizations including The Philadelphia Trans Health Conference, FemmeCon, GLSEN, Advocates for Youth, and the International Drag King Community Extravaganza, volunteers locally with the Minnesota Trans Health Coalition, and facilitates a professional support group for trans health and wellness providers, MSP Trans Identified Provider Support (TIPS).​
Services that JAC provides includes:
Individual therapy sessions
Assistance in obtaining trans-related medical care such as hormones and surgeries.
Working with other providers to address obstacles in trans-related healthcare.
Support changing legal name and gender markers, updating legal documents.
Help obtaining healthcare, housing, employment, and public assistance, and addressing discrimination related to these.
Support for survivors of sexual assault, intimate partner violence, and stalking, including help exiting abusive and/or unsafe relationships / living situations.
Educational sessions for parents and families of trans people seeking to better understand and support their loved ones.
Collaborating with schools, teachers, and guidance counselors of trans youth.
Support for trans youth in foster care and adoption, including youth shelter staff, Guardian Ad Litem, and foster and adoptive families.
Education
University of Cincinnati
Bachelors in Psychology, Gender and Sexuality Studies (2008)
Masters in Clinical Social Work and Social Work Administration (2013)
Training / Experience
Understanding Trauma and Trauma Informed Care, People Inc Mental Health Services, Saint Paul, MN (2017).
De-escalation Strategies, People Inc Mental Health Services, Saint Paul, MN (2017).
Introduction to Narrative Therapy, Bharati Acharya, MA LPCC, Saint Paul, MN (2017).
Sexual Assault and Intimate Partner Violence Survivor Advocate and Trainer, Buckeye Region Anti Violence Organization for LGBTQ Communities, Columbus, OH (2014).
Trauma Informed Practice in Transgender Behavioral Healthcare Initiatives (TBHI), Mazonni Center, Philadelphia, PA (2014).
LGBTQ Leadership Exchange, Advanced Grassroots Initiative Training, National LGBTQ Task Force, Cleveland, OH (2014).
Mental Illness in Transgender Populations, Transgender Behavioral Healthcare (TBHC), Mazonni Center, Philadelphia, PA (2013).
Adult Transgender Medical Care (TCCM), Mazonni Center, Philadelphia, PA (2013).
Best Practice Catalogue Human Rights Gender Identity, ILGA Europe (Equality for Lesbian, Gay, Bisexsual, Trans, and Intersex People in Europe), Cincinnati, OH (2013).
Survey Development & Assessing Community Health Needs, The Community Leaders Institute, Center for Clinical and Translational Science and Training, Cincinnati, OH (2012).
Survivor Advocacy; Providing Sexual Assault Awareness and Prevention, Women Helping Women, Cincinnati, OH (2011).
Crisis Mediation within Intersectional Systems of Oppression, Oberlin College, Oberlin, OH (2009).
Lobbying for Social Justice and Health Advocacy, Advocates for Youth, Washington, DC (2009).
Strategies for Enhancing Community Health Resources, Cleveland AIDS Task Force, Cleveland, OH (2009).
Social Justice Organizing, Campaigning, and Communicating with the Media and GLAAD, Washington, DC (2008).
Mentoring LGBT Youth in 9-12 Schools, GLSEN Cincinnati, Cincinnati. OH (2007).
Building a Multiethnic, Inclusive & Antiracist Organization, Safehouse Progressive Alliance for Nonviolence (SPAN) –Anti-Racism Education, Cincinnati, OH (2007).
Sexual Assault Crisis Responder and Legal Advocate, University of Cincinnati Reclaim Sexual Assault Awareness and Prevention, Cincinnati, OH (2006).
Experience
Anti-Violence Survivor Advocate and Community Trainer, OutFront Minnesota, Minneapolis, MN: March 2016 – September 2019
Mental Health Therapist, Transgender Care Specialist, RECLAIM, Saint Paul, MN: July 2016 – April 2018
PRN Therapist for At-Risk Youth, Lighthouse Youth Services, Cincinnati, Ohio: June 2014 – October 2015
Founding Director, Director of Programs, Development, and Administration, Heartland Trans Wellness Group, Cincinnati Ohio: April 2008 – June 2015
JAC is an independent contractor working with Cabot Psychological Services.
Schedule an appointment
Daytime, evening and weekend appointments are available and we accept most insurance.
Call or Text – (952)831-2000
Or contact us via – Email or Online
Meet the Rest of the Team
Cabot Psychological Services has a team of highly trained professionals to assist you with your specific needs. Meet The Team