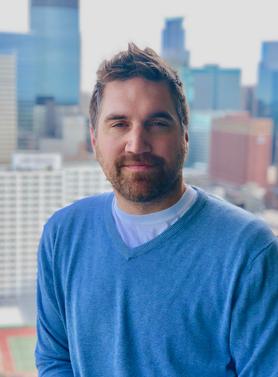 Lee Cunningham, MPS, LADC, LPCC
Lee Cunningham, MPS, LADC, LPCC
Lee currently sees HealthPartners clients as an affiliate of Cabot.
Cunningham Counseling, LLC
311 Ramsey St
Saint Paul, MN 55102
(612) 260-6982
Minnesota License #LPCC302861
Disconnection and shame are at the heart of human suffering. Healthy, growth-fostering relationships are at the heart of healing. Lee strives to bring safety, transparency, collaboration, choice, and empowerment to each of his therapeutic relationships. Through healthy relationships we are free to explore our inner most thoughts, feelings, needs, beliefs, values, and express ourselves without judgement or fear. Through these explorations we find our authentic voice, meaning, and direction for our lives.
Lee provides individual and couples therapy. He also sees adolescents and family therapy on a limited basis. He is also trained to provide EMDR and Prolonged Exposure for anxiety, PTSD, and trauma.
Education
Winona State University
Bachelor of Science (2005)
University of Minnesota, Twin Cities
Addiction Studies Graduate Certificate (2010)
Master's degree in Integrated Behavioral Health (2014)
Training
LADC internships at Project Turnabout, Hennepin County Detox Center, Regions Hospital
MPS internship at Park Avenue dual diagnosis program for substance use and mental health
LPCC-IT therapist at Hiawatha Valley Mental Health Center

Prolonged Exposure Certification for PTSD at St. Joseph's Hospital​
Experience
LADC group and individual therapist for trauma and addiction at River Ridge Treatment Center, a gender specific trauma informed outpatient treatment program
LADC juvenile facilitator for Diversion Program

LADC evaluator at Club Recovery, LLC

LPCC mental health internship at Park Avenue​
LPCC-IT/LADC at Hiawatha Valley Community Mental Health Center
Helping Men Recover trainer – Helping men recover is a trauma-informed, gender-responsive curriculum treating addiction and co-occurring trauma. Created and developed by Stefanie Covington, Richard Dauer, and Dan Griffen. 2016-present
Lee is an independent contractor working with Cabot Psychological Services.
Schedule an appointment
Daytime, evening and weekend appointments are available and we accept most insurance.
Call or Text – (952)831-2000
Or contact us via – Email or Online
Meet the Rest of the Team
Cabot Psychological Services has a team of highly trained professionals to assist you with your specific needs. Meet The Team