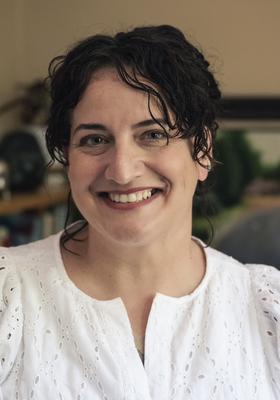 Kelle Kirk, MA, LMFT
Marriage & Family Therapist
Group:

Accountant, Clinicians in Edina, Clinicians in Minneapolis, Manager
Kelle Kirk, MA, LMFT
Marriage & Family Therapist
Minnesota License #LMFT4149
"And it's hard to be a human being. And it's harder as anything else" – Modest Mouse
Being human is hard. Life and all its complexities are challenging, especially when we try to go it alone, but we don't have to.
Kelle Kirk, MA, LMFT, aims to create a brave space where people can feel less alone in their struggles, talk about all their dynamic layers, and be supported in finding their true voice and humanness.
Since 2005 Kelle has been working with adults, families, couples and young people to support them in navigating many of life's challenges. She utilizes an eclectic, trauma informed approach, drawing upon Cognitive Behavioral Therapy approaches and attachment theory. She believes that our personal and social histories contribute to our current struggles; she works with her clients to support the discovery of these connections in effort to cultivate insight and encourage change.
Kelle is passionate about the work she does, and uses warmth, authenticity and humor to work with all her clients, especially people overcoming challenges related to food, body image and disordered eating; folks with a history of unhealthy substance use disorders; and people who experience episodic mood disorders like Major Depression and Bipolar. She has received additional training in CBT, DBT, Motivational Interviewing and Trauma grounding treatments.
A third generation California native, Kelle and her partner recently left the San Francisco Bay Area and found themselves calling the twin cities home for their little four ring circus; one kiddo, two doggos and a cat. They love discovering new landscapes, bakeries, and are routinely in awe of Minnesota Weather.
Kelle's ongoing dedication to racial, social and environmental justice occupies much of her free time, and is a thread that weaves through every avenue of her life including her therapeutic approach and style.
Education
New College of California
BA (2002) in Psychology
MA (2005) in Social Clinical Psychology
Training
MFT internship with YMCA of San Francisco; Youth Services Bureau in San Mateo county, California.
Experience
Dual Diagnosis Specialist and Therapist for Kaiser Permanente Addiction medicine and Intensive Outpatient programs in Oakland, California
Program Director for an Early Psychosis Clinic a partnership with Family Services Agency and UCSF in San Francisco, California
Kelle is an independent contractor working with Cabot Psychological Services.
Schedule an appointment
Daytime, evening and weekend appointments are available and we accept most insurance.
Call or Text – (952)831-2000
Or contact us via – Email or Online
Meet the Rest of the Team
Cabot Psychological Services has a team of highly trained professionals to assist you with your specific needs. Meet The Team